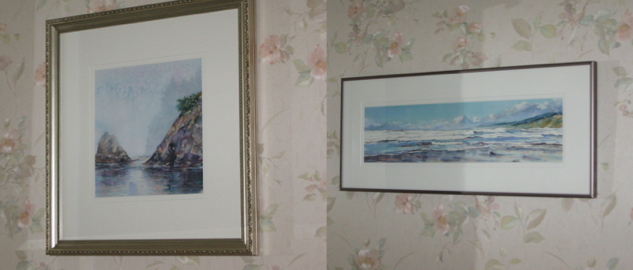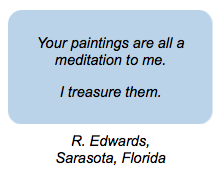 "Salt Air, Van Damme State Park,"
"Windy Day at Agate Beach."
(watercolors)
When I purchased these paintings, I could place myself in each scene. Later I took some tours of Ireland with my friend, Mick Moloney, who is an Irish musician. I found in Ireland each of the places in your paintings.
"Windy day at Agate Beach" reminds me of the West Coast of Ireland around Fanore.
"Salt Air, Van Damme State Park" reminds me of Tory Island on the Northwestern Coast of Ireland and of places I saw in Scotland.
"River Reflections" (not pictured) I see each time I am at the edge of a river marveling at the water as it flows so easily over the rocks. Your paintings are all a meditation to me. I treasure them.